Note: Typical setup time is 1 to 24 hours of payment (since the settings must be manually created). Please check your email for confirmation.
Tired of paying an enormous amount of money monthly for a support chat system? Well look no further, we have an EPIC deal for you!
Get your very own support chat system for your website that allows unlimited number of agents and a very simple admin dashboard for your agents to login and engage with your customers via chat.
There are no agent limits (unlimited agents) and no message limits – nor hosting fees! Very simple design that just works!
You can even send files to your customers using our system.
You get unlimited messages to your customers for a fraction of the cost!
Retrieve chat history, search and even get a list of missed customers information so you can follow up with them!
🎁 FREE BONUS – Allow your customers to speak directly to the chat window and it will convert their voice to text!
Embed the HTML code we give you into your website and presto! It's that easy to get your chat popup working on your website!
Hurry, a deal like this that is unbeatable might not last long!!!
Chat popup demo: https://humanchat.net/ZRM2HbaSsqC4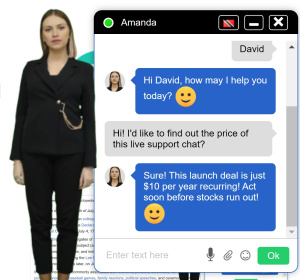 Management window demo: https://humanchat.net/live_chat/pub/ZRM2HbaSsqC4/chat
Management Password: Test1234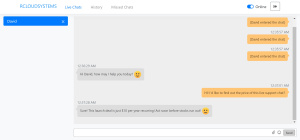 Read and search history of chats or get missed customer emails to contact them back!